Invisalign in Lake St. Louis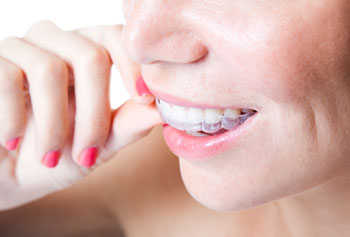 Clear aligners are a great way to transform your smile without the use of visible brackets. A series of clear, comfortable, removable trays are designed to fit your mouth precisely at each stage of treatment. Just like braces, your teeth will move gradually over time, but most people won't know you're wearing anything!
For our younger patients, we also offer Invisalign Teen at Seim Orthodontics. Invisalign Teen allows you to improve your smile without interrupting everyday life. You can continue to enjoy sports, foods and activities while the clear aligners transform your smile.
When we are fitting you for the Invisalign, we now have a 3D scanner so there is no more goopy, messy impressions… just a simple scan that takes less than 10 minutes.
Frequently Asked Questions
Am I a candidate for Invisalign?
Clear aligners can be a great option for teens or adults who want an esthetic look during treatment, but we will need to do an exam to determine what the best option is for you.
Why see Dr. Seim for Invisalign?
Dr. Seim has been trained and certified by Align Technology to diagnose and treat using Invisalign. She has experience working with some of the most respected and well-known Invisalign providers in the country.
How often do I wear the trays?
Trays should be worn 20 to 22 hours a day to achieve the best possible results. Trays are removed to eat and brush your teeth. The trays are comfortable, so most patients are able to do this with minimal effort.
Get Started Today
Ready to get a straighter, more confident smile without the look of traditional braces? Dr. Seim is here to answer all of your questions and guide you to the smile of your dreams. Contact our practice today to get started!

Invisalign Lake St. Louis, Wentzville, O'Fallon | Seim Orthodontics